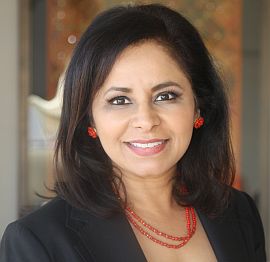 The San Francisco Bay Area's premier board certified plastic surgeon, Usha Rajagopal MD has more than 20 years of experience. Dr. Usha specializes in cosmetic surgery with an emphasis in breast augmentation, body contouring, and facial surgery.
Dr. Rajagopal's San Francisco based practice also offers a wide range of cosmetic dermatology procedures, state-of-the-art laser treatments, and advanced medical skin care service.
The San Francisco Plastic Surgery and Laser Center offers you the opportunity to have any of these wide range of procedures in the comfort and privacy of her accredited, in-suite surgery center.
When it comes to cosmetic plastic surgery, female surgeons are widely outnumbered by their male counterparts.  Because of this, many patients seeking a superior female plastic surgeon can find the process of finding the right cosmetic surgeon troublesome and tiresome. Your exhausting search for a female surgeon can end here. Dr. Rajagopal brings exemplary skill and training–along with a woman's insight, compassion and sensitive touch–to the art of cosmetic surgery.
The San Francisco Plastic Surgery and Laser Center offers a welcoming, warm, and relaxing ambiance. Dr. Usha and her all female staff are dedicated to the highest standard of patient care and treatment excellence, and off surgery consultations in a comfortable and stress free environment.
Dr. Usha's Bay Area office is conveniently located in downtown San Francisco near Union Square. Parking is available in the building or there is a BART station located within a short walking distance.
Many patients claim that cosmetic plastic surgery can improve more than just your appearance, but that it can improve your confidence and comfort as well. To find out more, or to schedule a consultation with Dr. Usha Rajagopal, call the San Francisco Plastic Surgery & Laser Center today.
San Francisco Plastic Surgery and Laser Center:
490 Post St, Suite 430
San Francisco, CA 94102
(415)392-3333